Breaking News
11/05/2016
Faisalabad Institute Of Cardiology (FIC) makes a ground breaking development in the treatment of patients with heart failure
THE NEWS:

The Extra-Corporeal Membrane Oxygenator (ECMO) is used successfully at FIC for the first time in Pakistan to perform a complex surgery in a patient of heart failure. The ECMO is also called Extra-Corporal Life Support (ECLS). The success of this a complex operation would have been impossible without the help of ECMO. The potentially dying patient has recovered rapidly and would be able of live good quality if life looking after her family.
THE CASE REPORT:
A 23 year old female patient from Mandi Bahauddin who was known to suffer rheumatic heart disease went into severe heart failure during her second pregnancy in May 2016. She was admitted at FIC and was discharged. However her disease progressed to such an extent that her heart size exceed twice the upper limit and she became breathless even at rest. The left ventriuclar end diastolic and systolic dimension became 95 and 68 respectively. With sever mitral regurgitation her left ventricular ejection fraction became less than 35 %. The patients of heart failure with such a gross enlargement of heart usually die before or after any attempts of surgery. Those who manage to live through the acute phase require heart transplant for long term survival. Considering her precarious condition, from August onwards she was kept in the hospital under close monitoring and intensive care. In fact she remained waiting for a miracle to save her life. In the mean time The Executive Director and Chief Cardiac Surgeon of FIC, Dr. Anjum Jalal contacted Ms Maquet, an international manufacturer of ECLS system called CARDIOHELP and requested them to provide it on humanitarian grounds.
On 29th of October 2016, Dr. Anjum Jalal performed a complex open heart surgery. The operation involved replacement of two valves and reduction of the size of one the enlarged chambers of the heart. After the operation the patient was connected to the CARDIOHELP machine. The whole procedure took 160 minutes. The patient regained her conscious level within next 3-hours and she was disconnected from the ventilator within 6 hours. On the same evening she was able to communicate comfortable with her family. Her cardiac support medications were gradually weaned off over next 24 hours. The ECLS system was initially taking up 75% load of the heart and lungs and was gradually weaned as patient's own heart and lungs started taking up the load successfully.
Nearly 52 hours after surgery, at 4:00 pm on 1st of November 2016 the patient was successfully disconnected from CARDIOHELP without any problems.
The patient is making rapid progress and would hopefully be discharged by 9th of November on Iqbal Day.
This historic success would have been impossible without the support of
CARDIOHELP system.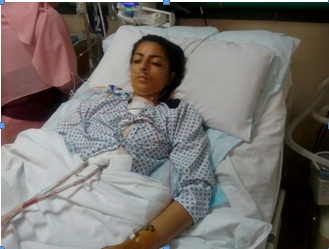 Ms Maquet and their local representative Ms Mediland Pakistan (Pvt) Ltd, extended a phenomenal support by providing the machine and the necessary consumables available for the treatment of this patient free of cost. The cost of disposables incurred so far has exceeded over US$ 8000. A team of experts from Ms Maquet and Mediland also remained on site while the CARDIOHELP system was put in place. The company also arranged the presence of Mr. Nusrat Rizvi a renowned perfusionist of Pakistani origin currently working in Muscat. Mr. Rizvi is expert in practical management of this latest technology. He, very graciously, stayed at site with the patient for more than 72 hours and supervised the nurses as well as the perfusionists of FIC.
The team of other doctors nurses and paramedics who participated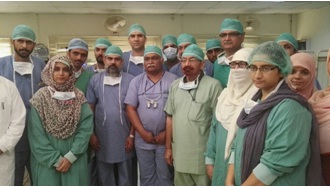 in the operation with Prof. Anjum Jalal included Dr. Sajida& Dr. Asif Alamgir (Anesthetist),Dr. Irfan Rasheed & Dr. Sohail Ch (assistant surgeons) Mr. Shahid, M. Imran and Ms Sobia (perfusionists) Ms Sana, Sadia, Asma and Riffat (nurses).
WHAT IS ECMO, ECLS and CARDIOHELP ?
As mentioned above ECMO stands for Extracorporeal Memebrane Oxygenator. Traditionally it was used to add oxygen to the blood of patients with poor gas exchange in the lungs due to several fatal diseases. The technology in its initial form was complex, massive in size and difficult to use. It was highly labour intensive. Over the last ten years it has improved tremendously.
The current form of machines using ECMO also have centrifugal pump to perform the function of heart in addition to lung. For that reason this latest form is also called Extracorporeal Life Support (ECLS) but both ECMO and ECLS are used in the literature for the same concept. Few international manufacturers have taken lead to develop compact systems for ECMO. The aim has been to reduce the size, make it user friendly and include safety features which require minimal subjective inputs. The CARDIOHELP System is so far the smallest portable heart-lung support system designed to treat patients requiring extended respiratory and/or circulatory support.
IMPACT OF CASE ON THE FAISALABAD INSTITUTE OF CARDIOLOGY:
The successful application of ECMO at FIC has reserved a respectable for FIC on the world map of Cardiac Surgery and Intensive Care. The whole procedure was done entirely by the local staff of FIC. The team leader Dr. Anjum Jalal with his foreign training and experience had practical experience of cardiac assist systems and heart lung transplant. However, the institute has so been unknown to the developed world. During the treatment the experts in Holland, Egypt, UAE remained constantly in touch thorough Whats App and internet to monitor the progress of the patients. They applauded the expertise, dedication and ability of doctors, nurses and paramedics. The successful completion of this kind of procedure surprised many international experts indeed. The interaction of local staff with the international experts have made big impact local team at FIC. This success has boosted their self confidence and has become a major source of inspiration for similar endeavors in future.
IMPACT OF THIS ACHIEVEMENT ON HEALTHCARE IN GENERAL ?
This ground breaking development has opened new avenues of excellence in the management of critically ill patients suffering from serious failure of heart or lungs. The impact of this development would be far reaching as this technology is not only used to save critically ill cardiac patients but also in provides valuable support in many other potentially fatal illness. The main areas of it use include:
Patients suffering from H1N1 influenza (Swine-Flu),
Premature babies with poorly developed lungs
Babies born with fatal congenital heart defects
Adult respiratory distress syndrome ARDS.
Sever trauma of heart and lungs
Patients of heart failure waiting for transplant or cardiac assist devices.
The development of a vibrant ECMO program under the support of Health department is the need of the day. Such a program can save innumerable precious lives especially of young persons suffering from temporary causes of heart or lung failure such as trauma and Swine flu. He further reiterated that the success of this operation has proved that given the opportunity the medical profession in Pakistan is ready to take up the most modern treatment modalities for the treatment of heart failure. Moreover, it has proved that the system at FIC is capable of taking the lead in the surgical treatment of heart failure including cardiac transplant and use of cardiac assist devices.